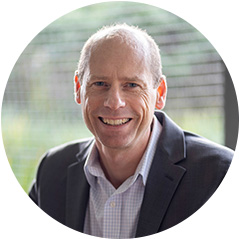 Michael Cooper
Patent & Trade Marks Attorney
Director
Prior to founding Cooper IP, Michael worked for over ten years with one of Australia's largest and most prestigious IP law firms. There, he was responsible for helping companies, SMEs and individuals secure intellectual property protection in Australia and overseas. 
Recognised in the IAM Patent 1000: The World's Leading Patent Professionals, Michael's clients benefit from his pragmatic approach and commercial focus. He guides them through the process of intellectual property protection from start to finish, helping them obtain and capitalise on their competitive advantages. 
Michael has a strong engineering background and combines a passion for intellectual property with a keen interest in technical innovation. After developing a love of cars as a teenager, Michael completed an engineering degree and worked as a mechanical engineer at GM Holden. This engineering background has proven invaluable for Michael's tech-savvy clients who appreciate Michael's comprehensive understanding of their inventions. 
Having practiced in one of Australia's largest IP firms for over ten years, Michael founded Cooper IP, a boutique IP firm whose aim is to better support Australian innovators through cost-effective and bespoke intellectual property services.
Master of Intellectual Property Law, The University of Melbourne

Bachelor of Engineering (Hons.), Monash University

Trans-Tasman Patent Attorney 

Australian Trade Marks Attorney
Professional associations
"Michael and the team have been a joy to work with throughout the whole of the patent protection process - from the original patent application all the way to grant. Their professionalism, deep understanding and knowledge of intellectual property in all its facets, and ability to achieve a more than satisfactory outcome have made the entire process almost enjoyable (I don't enjoy law). Due to their ability to explain a complex process in easily understandable words, I would 100% recommend Cooper IP to anyone interested in dipping their toes into intellectual property and patents. For those that are already experienced, this company is also a superb choice - it far surpasses the other organisations I've used in terms of pricing, performance and customer service. Cheers Cooper IP!"
"I've been using Michael since 2013 for all intellectual property matters. Michael has successfully guided us to granted patents in the US and Australia, from drafting the original provisional patent application to grant status many years later. In between, Michael has been extremely supportive and always took the time to make sure I understood exactly what was going on. I've come to rely on Michael's grasp of the international patent system and determining the best protection strategy. Having also used the much larger IP firms, I can say that it is great to be able to get good timely advice often with an immediately answered phone call, and at a fraction of the cost. Thanks Cooper IP for all the great work."
"Michael at Cooper IP has been immensely helpful with my invention. Michael worked with me closely to understand my invention so we could have the most sensible and cost effective solution. He went above and beyond with helping me protect my invention. Furthermore, to find an industry professional with the knowledge level Michael has effectively saves money because you get the most efficient charge out time. My patent was written to a fine detail which gave me great confidence to keep my invention protected. I appreciate all that you have done for me and couldn't recommend Michael and Cooper IP enough. Thank you and much appreciated."
Michael was able to clarify existing restraints and provide knowledgeable feedback on suggested changes which enabled me to promptly finalise a new design. The whole process from introduction to certification was a pleasure. I strongly recommend Cooper IP.
As a small start-up business we didn't have much of an idea on what IP protection was needed for our business. After our 30min online consultation we felt much more confident with what we needed and had a much better understanding of the process for registering a Trademark. Everything was explained in a simple, clear way for us and we would not hesitate in recommending Cooper IP.
"I would like to recommend Michael Cooper for his excellent work done on my behalf as a patent attorney. He quickly mastered his brief and worked hard, diligently and intelligently to successfully complete all work related to my intellectual property. I also found him refreshingly honest, helpful and knowledgeable on all matters he was consulted on. I could not recommend him highly enough."
"Michael and Warren have been extremely responsive and strategic in helping me navigate the world of patent protection. It's also great to know that they regularly visit Tasmania and provide free IP meetings. One of the great things about working with these guys is that they have all the experience of lawyers from the big Australian IP firms and yet you're dealing with a much smaller and more personable company. Very pleased to have found Cooper IP - I highly recommend you chat to them if you have any IP issues."
"We have used the professional services of Cooper IP for over a year for our multiple patents and trade mark applications. I have found Michael and Warren, as our Patents & Trade Marks Attorney firm, to be extremely professional and switched on. Michael Cooper, as its principal and as a highly knowledgeable and competent intellectual property attorney, has guided us pragmatically towards the correct steps in protecting our intellectual property in multiple countries globally. We are happy now that we have selected the right company for the protection of our intellectual property. I have no hesitation whatsoever in recommending Cooper IP to inventors - small and large, individuals and corporates."
"Michael has been helping our clients at The Van Diemen Project for the last two years. We strongly recommend to our clients who have Intellectual Property queries to Michael. His sage advice and feedback is always respected and appreciated by our clients and ourselves. We look forward to referring many more clients in the future to Michael."
"I have recently engaged Cooper IP as my patent attorneys I can honestly say that Michael and the team are extremely professional in all aspects. I would highly recommend Cooper IP to any one that requires a high level of professionalism and duty of care as they've proven to me."
"This was the first time I ventured into the world of IP registration for one of my product designs. On a Google search, I found Cooper IP for whom I couldn't be more happy. From the very first contact, Michael, Warren and the Cooper IP team have exceeded all expectations. Both Michael and Warren made themselves available at all stages to advise and guide me and my design toward a smooth and stress free end result which was my new Certificate of Registration. Thanks for everything Cooper IP!"
"I had excellent communication from Michael and his team throughout our predicament and also had the desirable result we sought. Highly recommend and like to note that our invoice was very, very friendly unlike other folks in the same industry. A+"
"I have been working with Michael now for 12 months (with positive progress I must say) and I've found him to be a highly professional person. He has been extremely helpful and very reassuring to deal with. I would thoroughly recommend him to anyone. Keep up the good work Michael."
"Micheal has been helping me with all aspects of patent applications for my small business. Great to work with. Highly recommend!"